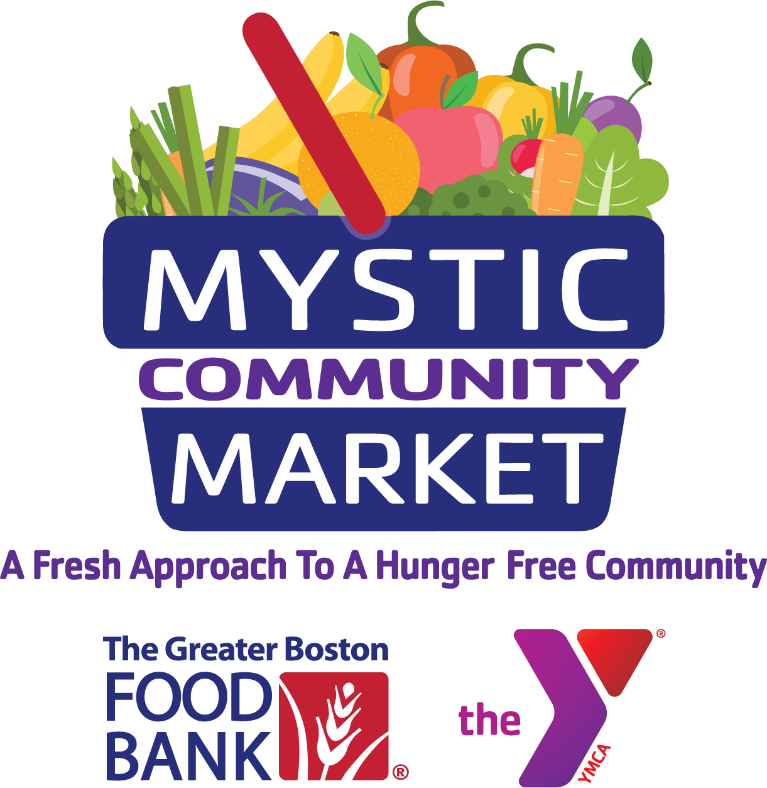 HOURS OF OPERATION
MONDAY: 3:30PM – 7:30PM
TUESDAY: 3:30PM – 7:30PM
WEDNESDAY: 3:30PM – 7:30PM
THURSDAY: 3:30PM – 7:30PM
FRIDAY: 3:30PM – 7:30PM
SATURDAY: 9AM-2PM

Location
Located at Walnut Street Center
291 Mystic Avenue
Medford, MA 02155

Use pedestrian gate and enter under the blue awning on the right side of the building.
Market phone number: (617) 629-5120
Market website: https://ymcamalden.org/
Interested in volunteering? Email lSmythe@ymcamalden.org
Food donations
We don't accept food donations from the community, at this time, but all monetary donations to our COVID-19 Response Fund go to supporting our efforts to meet the enormous and growing demand for food resources during this crisis.
About Mystic Community Market
One in 11 Medford residents struggle with food insecurity. In order to address this pressing issue, the local YMCA, Greater Boston Food Bank, and Walnut Street Center have partnered to provide a best-in-class food distribution center that places an emphasis on nutrition and community health.
Mystic Community Market plans to distribute 200,000 meals to residents in need in just its first year of operation. Increasing capacity and accessibility to healthy nutritious foods, and continued collaboration among organizations and sectors are essential to achieve the GBFB vision of a Hunger Free Eastern Massachusetts by 2028.
Since April 1st, we have been able to receive and distribute 379,163 lbs. of food to 14,060 households/54,110 individuals. We are also serving free, grab-and-go youth meals to nearly 400 local youth daily and doing doorstep delivery to approximately 250 households weekly, including COVID positive homes. The Mystic Community Market at the Walnut Street Center is the hub and heart of all of these efforts and donations from our community make our work feeding our community possible.
Visit www.ymcamalden.org for more information and details on our food resources, and follow the YMCA on Facebook and Instagram @ YMCAMalden.